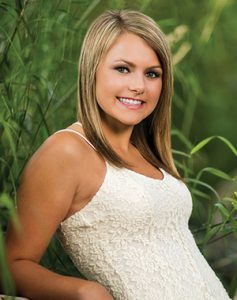 Alicia Heitstuman, daughter of Sam and Linda Heitstuman of Clarkston, Wash., has been awarded a $1,000 scholarship from the Asotin County wheat growers.
Alicia grew up on her family's farm and ranch and got involved in 4-H when she was nine years old. She has taken a steer to the Asotin County Fair for the past 10 years and is the treasurer for her high school's chapter of FFA. She has logged some serious community service hours —more than 200—helping to raise money for MS with a dodge ball tournament and promoting breast cancer awareness by raising more than $6,000 for the Gina Quesenberry Foundation. She is valedictorian of her Clarkston High School senior class with a 4.0 GPA.
"I like giving back to my community," Heitstuman said. She will be attending Washington State University in the fall, but isn't sure what she'll be majoring in. She said she's considering nursing because she enjoys helping people, but is also considering a food science degree.
"Growing up on farm, I watched plants grow and my dad harvest them. A food science degree would go with my learning, and I could apply it to help people," she said.
Heitstuman thanked the Asotin County growers for the scholarship and said it was good to be recognized for the things she's done so far in her life. When asked what her favorite part of growing up on a farm was, she said growing up in rural America in a small town. Different experiences, like harvesting or helping to feed baby calves, has also helped her appreciate that life.
"Doing those things built character, and I have an appreciation for animals and the earth and the types of things people have to go through to put food on the table," she said.