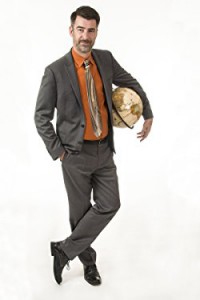 By Trista Crossley
For a guy who routinely talks about the end of the world order as we know it, Peter Zeihan sure is popular.
Zeihan, a geopolitical strategist, book author and popular speaker, will be one of the keynote speakers at the 2019 Tri-State Grain Growers Convention Nov. 13-16 at the Davenport Grand in Spokane, Wash. He last spoke at the 2017 convention where he predicted that in the future, the U.S. would withdraw from the global economy, and much of the world would struggle to find food while the U.S. and a few other countries prospered. His presentation was well received, and farmers have been asking to bring him back. This time around, he'll be focusing on what he called the "middle" ground, what farmers have to look forward to as the U.S. finds it's place in a rearranged global economy.
"The U.S. never built its economy on the global system," Zeihan said. He explained that if anything knocks the world on its side, only two sectors in the U.S. are internationally vulnerable: technology and agriculture. Technology, because most of today's gadgets are built overseas, and agriculture, because in many cases, it is the only area where other countries have any leverage against the U.S.
"The U.S. is the lowest cost, high quality producer of food and is reliable, which means we have been able to grow more and (grow a larger) variety of crops than everybody else. But we also produce twice the number of calories we can eat, which means it has to be exported. Agriculture is so productive that it has become exposed to the system," he said. "In the midterm, agriculture is one of the sectors that can suffer as the U.S. tries to hammer down the mechanics of how the world works in the future. Once we are through that transition period, though, streets will be paved with American gold."
Zeihan said he's always been interested in "all things international." In 2012, after stints with the U.S. State Department in Australia, a Washington, D.C., think tank and Stratfor, a private intelligence company, he founded his own firm in 2012 to provide custom analytical products to clients. Although his clients vary from energy majors, financial institutions, business associations, agricultural interests and universities to the U.S. military, Zeihan has found a way to tailor his presentation to each specific audience. He generally divides his speeches into parts, first explaining how the world got to where it's at and then transitioning into specifics on trade. He uses the final part of his presentation to delve specifically into the issues each particular audience is concerned with.
With a topic as complicated and convoluted as geopolitics, it can be easy to get lost in the weeds and overwhelm the audience with information. Zeihan said he makes sure to keep coming back to issues that his audience cares about. For agriculture, that usually means the transport supply chain and markets. He said he takes care to present his information without bias.
"Sometimes people ask me political questions, and I have to dive into the U.S. being in a transition moment. I look at things structurally rather than politically as a rule. I either piss no one off, or I piss everyone off equally," Zeihan said, laughing.
Some Eastern Washington wheat farmers may be wondering why they should care about what's happening in the rest of the world. Zeihan has an answer for that. He pointed out that the global wheat market has been dominated by seven players for the last half century, and six of them have been growing at the cost of the American wheat farmer. But according to Zeihan, that's about to end.
"The wheat market is about to be the most dynamic since the Napoleonic Wars (1803-1815). That is when the American farmer made mad bank for 60 straight years," he said. "During the Napoleonic Wars, every major wheat producer on the planet except America was at war with each other. There was a global famine, and it was up to American farmers to fill the gaps. We failed, but wow, farmers made a lot of money."
Zeihan predicts the world is on the verge of another global famine, which will drive wheat prices up.
In general, Zeihan wants audiences to take away three things from his presentations:
Change is in the air, and we are far past the point of no return. We need to understand the players and the structures that make the world work.
Those players and structures aren't going to work much longer.
That's not necessarily a bad thing.
Zeihan's convention keynote address is scheduled for breakfast on Friday, Nov. 15. To learn more about Zeihan, visit his website at zeihan.com. To register for the 2019 Tri-State Grain Growers Convention, visit our website.