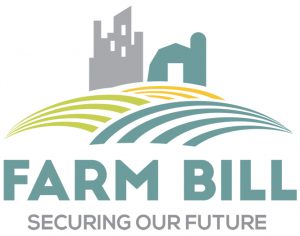 By Trista Crossley
Nearly five months after the 2018 Farm Bill was signed into law, implementation continues to move forward.
In March, many of the U.S. Department of Agriculture (USDA) agencies held listening sessions to gain input from stakeholders and the public on farm bill implementation. The National Association of Wheat Growers (NAWG) has been monitoring the process closely and has submitted comments as necessary. In addition, NAWG leaders and staff have met with officials from the Farm Service Agency (FSA), the Risk Management Agency (RMA), the Natural Resources Conservation Service (NRCS) and the Agricultural Research Service (ARS) to share wheat growers' priorities and concerns.
Josh Tonsager, NAWG's vice president of policy and communications, said implementation is a little behind because of the government shutdown at the beginning of the year and because USDA has prioritized implementation of the new dairy support provisions. He said NAWG has been pressuring USDA that wheat growers need to know what the Title I programs—Agriculture Risk Coverage (ARC) and Price Loss Coverage (PLC)—are going to look like before they have to sign up for them. USDA has announced ARC and PLC program sign-ups will start in September.
"All of agriculture is experiencing a significant downturn, but dairy has also been hit hard. I think the interest in USDA is to get it out to (dairymen) right away so they can sign up to programs that are retroactive to the beginning of the year," Tonsager said. "We are messaging about the impact of the shutdown and will continue to use it to avoid future shutdowns, but the fact that they are getting diary programs out first shouldn't be alarming for wheat growers. We have more time than the dairy support programs since ARC and PLC payments for the 2019 crop year won't go out until October 2020. At the same time, certainty about how the safety net will be structured is necessary to help farmers plan."
Tonsager added that NAWG is pleased USDA has increased loan rates for market assistance loans as well as implemented higher loan (credit) program caps as required in the farm bill.
NAWG is closely watching several issues that are important to Eastern Washington wheat growers that have implications for wheat growers nationwide, including a quality adjustment provision that directs USDA to look for alternative methods for adjusting a grower's actual production history (APH) due to a quality issue. Tonsager said one of the options USDA is talking about would be similar to a yield exclusion where growers will have the option to buy the right not to have a quality adjustment applied to their APH. The basic premise is that RMA would calculate the difference in premiums from a yield with no quality discount to the yield with a quality discount, and growers would pay the difference if they wanted to maintain their APH. 
"This quality adjustment provision was a big win for NAWG and our states in the farm bill," Tonsager said. "Because Washington wheat, NAWG and other states have been so active over the last couple of years, communicating with RMA and the Hill on this issue, RMA picked this provision as one of the first items for implementation. I think that's been very positive, and they have been very proactive in getting feedback from us."
Some of the other implementation issues NAWG is monitoring include an increase on the ARC yield plug so yields can't drop to less than 80 percent from one year to the next instead of the previous level of 70 percent. The 2018 Farm Bill also allows for trend-adjusted yields to be incorporated into the ARC formula. NAWG is watching how USDA will implement the new base acre provision that dictates that acreage that hasn't been planted in anything other than grass for 10 years is ineligible for Title I payments. Those acres will be eligible for a new conservation program that is a subset of the Conservation Stewardship Program (CSP).
"We've been pressing USDA that growers need to be informed as soon as possible if they are going to impacted by this program," Tonsager said, adding that USDA has said they will be in communication with growers "soon." 
And finally, something that has been of particular interest in Eastern Washington recently is the requirement that FSA use RMA data instead of NASS data when setting program payments. Tonsager said FSA will have to go through and aggregate that RMA data, so implementation of this provision could take some time.
Farm bill implementation will continue to top NAWG's list of priorities, including making sure USDA is "communicating with us throughout the process so we can weigh in as changes are made so they are workable for growers," Tonsager said. NAWG is also urging USDA to utilize funding in the farm bill to update and maintain the decision tools created in the 2014 Farm Bill as an educational resource for Extension and FSA offices.
In mid-April, USDA issued an update on farm bill implementation on a title-by-title basis. Here are some of the highlights:
Title I-Commodity Programs. FSA will open elections for ARC and PLC programs for the 2019 and 2020 crop years beginning in September 2019. FSA also announced the 2019 Marketing Assistance Loan (MAL) rates for wheat, feed grains, oilseeds, rice and pulse crops. Relative to 2018-crop MAL levels, the 2018 Farm Bill increased the national loan rates for most of these commodities for each of the 2019-2023 crops.
Title II-Conservation. In March, USDA published an announcement regarding the availability of $450 million for wetland and agricultural land easements that will help private landowners, tribes, land trusts and other groups wanting to restore and protect critical wetlands and protect agricultural lands and grasslands.
NRCS has announced May 10, 2019, as the next deadline for CSP applications to be ranked and considered for funding this year. CSP will have higher payments for enhancements that include cover crops, resource conserving crop rotations and advanced grazing.
NRCS has also determined that Regional Conservation Partnership Program (RCPP) projects with agreements entered into prior to Sept. 30, 2018, may continue to enter into new RCPP-CSP contracts with eligible producers, which will be administered under the new CSP authority.
Title III-Trade. In February, FAS allocated more than $204 million for the Agriculture Trade Promotion Program. U.S. Wheat Associates, the marketing arm of the U.S. wheat industry, was awarded $8.25 million, which will be distributed over the next three years. 
Title V-Credit. In April, FSA announced that eligible agricultural producers will have access to higher loan amounts to better provide them with the credit needed during the current period of lower market prices and numerous natural disasters.
Title VI-Rural Development. In February, the American Broadband Initiatives Milestones report was released, describing how the federal government is partnering with the private sector to expand rural broadband. The report's recommendations are grouped into three categories: streamlining federal permitting processes to speed broadband deployment, leveraging federal assets to lower the cost of broadband build-outs and maximizing the impact of federal funding. The report can be downloaded at usda.gov/broadband (scroll about halfway down the page).
Title XII-Crop Insurance. RMA has implemented the new definition for the Whole Farm Revenue Protection program that extends the time for new beginning farmer and rancher eligibility from five years to 10 years for the sales closing dates.
Starting with sales closing dates after the passage of the farm bill, RMA is offering a new endorsement for farmers. Producers of corn, grain sorghum, soybeans, cotton, canola, peanuts, rice, barley, wheat and sunflowers now have the option to combine acreage in one county that does not qualify for enterprise units with crop acreage in another county that does qualify. The option offers flexibility and a low-cost option for producers.
RMA has fully implemented yield cups that provide producers with an election to limit the decrease in actual production history (APH) to not more than 10 percent of the prior crop year's APH. This prevents abnormally low yielding years from dramatically impacting a producer's APH and stabilizes insurance guarantees.