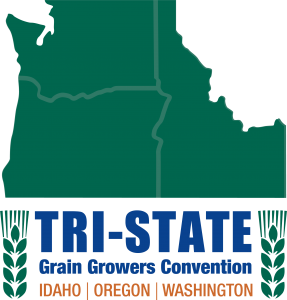 Due to the uncertain timeframes of current group restrictions and financial implications of delaying a decision, the small grain grower associations of Idaho, Oregon and Washington regret to announce the cancellation of the 2020 Tri-State Grain Growers Convention. The event was originally scheduled for December 1-4, 2020 at the Coeur d'Alene Resort.
The Tri-State Grain Growers Convention has become a premier annual event in the Pacific Northwest for small grain producers and industry partners. It attracts nearly 450 people from Idaho, Oregon and Washington. At the event, the grower associations hold their annual business meetings to direct their policy work and install new leadership. Jointly, the three states hear from nationally elected officials, high caliber keynote speakers, participate in educational breakouts, collaborate with industry partners, and more.
We want to express our sincere appreciation to the grower members, sponsors and exhibitors for your continued support during these uncertain times. State leadership and boards will continue their work on behalf of the association members as we head in to critical legislative sessions.
The 2021 Tri-State Grain Growers Convention is slated for November 30-December 3, 2021 at the Davenport Grand Hotel in Spokane, WA and will return to the Coeur d'Alene Resort in 2022. Idaho Grain Producers Association, Oregon Wheat Growers League and Washington Association of Wheat Growers hope to see you there!
Sincerely,
Idaho Grain Producers Association
Oregon Wheat Growers League
Washington Association of Wheat Growers