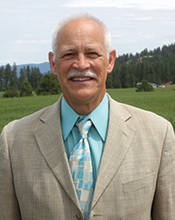 So far, it's been a pretty eventful year for the Washington Association of Wheat Growers (WAWG). Add in one more change—the hiring of a new staff member.
Lance Marshall was brought on board in June to replace retiring Wheat Life ads sales manager, Kevin Gaffney. Marshall and his wife, Pamela, live in Clarkston, Wash., with their youngest daughter. Two other daughters live on the west side of the state. Marshall comes to the role with more than 40 years of experience in print media advertising sales.
"I like to build relationships with my customers. I don't have customers, I have friends," Marshall said. "I don't consider this a transactional relationship, like 'you buy from me and I'll make money.' I want to use our product to help customers increase sales of their product so that we can all succeed together."
While Marshall may have grown up and spent most of his adult life on the west side, he attended Washington State University for three years before graduating from the University of Washington. A job during his time in Pullman at a men's clothing company whetted his appetite for sales. He discovered, however, that he didn't much like retail sales.
"I really loved the interaction with the customers and helping them find what they wanted," he said. "But I didn't like standing around waiting for someone to come in. That was too slow for me. After graduating from college, I wanted to do sales but I wanted to get a job where I went to the customer so I don't have to wait for the customer to come to me."
Back on the west side of the state, he answered an ad for a local Yellow Pages salesperson and never looked back. Most recently, Marshall was working at the Capital Press as the northeast Washington sales rep. At the time he heard about Gaffney's retirement, Marshall said he was kind of looking for another job.
"It's like you can look ahead and see three options, but out of the blue, here's option 27," he explained. "I had no idea that this was even a possibility. From the minute I met Kevin and we talked, there was just this thing inside of me that said this is for you."
If selling ads for Wheat Life isn't exciting enough, Marshall also enjoys motocross racing in his free time. In 2017, he was the over-60 expert champion in the International Oldtimers Motocross Association, and in 2018 and 2019, he was second in the master class, which is the highest level.
"It (motocross racing) is something I've done for 40 years. I love the power and acceleration of the motorcycle," he said. "I'm a jumper. I love the big jumps and being up in the air." He also enjoys golfing and is looking forward to teaching his grandsons how to waterski.
Looking back at his first few weeks on the job, Marshall said he came into the position with high expectations that have been met by both his co-workers and the customers. He admits, however, that he has a lot to learn about the wheat industry.
"Everybody has been willing to help out," he said.