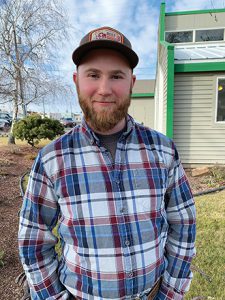 Mitchell Powers is the newest member of the Washington Association of Wheat Growers (WAWG) state board. He is the sixth generation on his family's dryland wheat farm and cattle ranch near Bickleton in Klickitat County.
Powers graduated from Washington State University with a degree in ag technology management. He returned to the farm shortly after graduation, something he wasn't originally planning on doing. 
"The longer I was at college, the more I saw I wanted to be back on the farm," he explained. He particularly enjoys troubleshooting the issues that seem to be part and parcel of farming and exploring new ways of doing things. The family's farm was originally settled in 1880. They are 100 percent no till, a transition that started back in 1999.
Besides WAWG, Powers is also a volunteer on his local fire department and is on the school board. In his spare time, he enjoys riding UTVs and going to Cougar football games in the fall. 
Powers said that while his parents have been members of WAWG, he wasn't too familiar with the organization before joining the board.
"I want to see how WAWG interacts with legislators because that's the most important part of what they do," he said, adding that it's important for younger farmers to get involved in advocating for the wheat industry. "As our country as a whole becomes less and less associated with agriculture, I think those in ag have to be good advocates for themselves and the industry."