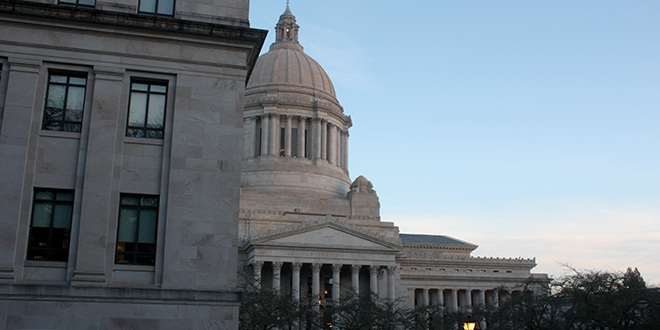 By Diana Carlen
WAWG Lobbyist
Yesterday marked the 37th day of the 2019 Legislative Session. Committees are still holding hearings on new bills and holding executive action where they pass bills out of policy and fiscal committees. Revised drafts and amendments to bills are constantly being released which require review and input before they are voted out of committee. Friday marks the first legislative deadline—Feb. 22—when all policy bills must make it out of their policy committee to remain alive.
Bill Targeting Agriculture Industry Receives Spirited Public Hearing
A bill insinuating that there is a problem in the agriculture industry of engaging in human trafficking and slavery received a hearing last Friday. SB 5693, creating transparency in agricultural supply chains is sponsored by Senator Rebecca Saldana (D-Seattle). The bill requires certain Washington state retail sellers and manufacturers of agricultural products to make annual disclosures on their websites' homepages about their efforts with respect to their product supply chains to eradicate slavery and human trafficking, and to ensure compliance with employment laws. It would provide for statutory damages between $500 and $7,000 for violations, punitive damages for willful violations, and other relief.
The agricultural industry, including the Washington Association of Wheat Growers (WAWG), is vehemently opposed to this bill and testified against the bill. There has been no evidence that this is occurring in our state and this legislation seemed to come out of left field. The agriculture industry does not condone human trafficking or slavery. There was also concern why the agricultural industry was singled out on this issue and that it was insulting to the industry.
Hearing on Bill to Provide More Protection for Agriculture Leases
WAWG testified in support of bill that would prohibit the Washington State Department of Natural Resources (DNR) from terminating a lease early, other than for default, without the written consent of the lessee. HB 1964is sponsored by Rep. Chris Corry (R-Yakima). WAWG testified in support of this bill today in the House Rural Development, Agriculture & Natural Resources Committee. WAWG reminded the committee about the situation in the Horse Heaven Hills area a few years ago where DNR unilaterally cancelled 10 year dryland leases with only 60 days notice and the detrimental impact it caused the farmers. WAWG argued that DNR should be required to uphold their contracts like any other party entering into a contract would be required to do. DNR always has the option to enter into shorter contract terms.
Stakeholder Meeting on Potential Cap and Trade Legislation Held
Last Tuesday, Senator Reuven Carlyle (D-Seattle, 43), chair of the Senate Environment, Energy & Technology Committee, convened a stakeholder meeting to discuss draft legislation he has circulated on enacting a cap and trade program in Washington state. The legislation is still in draft form and has not been formally introduced. Senator Carlyle plans to formally introduce the legislation later this week and hold a public hearing soon. He is seeking feedback from stakeholders on his proposal.
Other notable bills receiving hearings:
Minimum Crew Size on Certain Trains (HB 1841). The legislation would establish minimum crew size requirements for railroad carriers operating hazardous material trains and hazardous material trains consisting of 50 or more cars. The legislation has an exemption for trains transporting hazardous material shipments a distance of five miles or less to operate with crew members positioned on the lead car. WAWG opposes this bill. The companion bill, SB 5877 is being heard in the Senate Labor & Commerce Committee this Thursday.
Environmental Justice(SSB 5489and HB 2009), These bills would require state agencies to establish a task force to recommend social justice measures in the state permitting process. WAWG opposes this bill because permitting decisions should be based on the law and the best available science, not on social justice considerations.
Low Carbon Fuel Standard(SHB 1110): This bill would direct the Washington State Department of Ecology to adopt a rule establishing a Clean Fuels Program (also known as a low carbon fuel standard) to limit the greenhouse gas emissions per unit of transportation fuel energy to 10 percent below 2017 levels by 2028 and 20 percent below 2017 levels by 2035. The bill passed out of the House Transportation Committee on a party line vote with only Democrats voting for the bill. The bill has been referred to the Rules Committee and is one step closer to a full House vote.