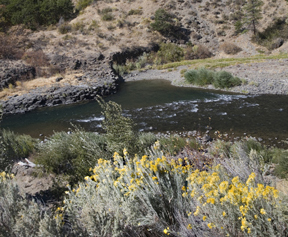 The Washington State Department of Ecology (Ecology) has indicated that it has no plans to relax its regulation of the state's waters despite a revised federal ruling that redefines what waters are considered "waters of the U.S."
The revision, which was finalized in June 2020 by the Trump Administration, narrows the definition of waterways that fall under federal regulation from eight to four categories: territorial seas and traditional navigable waters; perennial and intermittent tributaries; certain lakes, ponds and impoundments; and wetlands that are adjacent to jurisdictional waters. In 2015, the Obama Administration passed a Clean Water Rule that broadly defined what waters and waterways were considered to be under federal jurisdiction, causing confusion for many farmers and ranchers.
In emails from Ecology, a spokesperson said Washington's waters are protected under state law regardless of their status under federal law, and Ecology will continue to use its existing state authority to regulate the state's waters. The new WOTUS definition simply means that there is less overlap between federal and state protected waters. However, Ecology is expecting to see an increased workload as the agency will now need to review projects that previously would have received a streamlined nationwide permit. In order to deal with the projected workload, the department is asking the legislature for a budget increase that would allow them to hire six new full-time employees.
For farmers, because the definition of state waters isn't changing, they'll likely see little difference in what is or isn't regulated.
According to the Environmental Protection Agency (EPA) and the U.S. Army Corps of Engineers (Corps), this revised rule was intended to eliminate federal overreach and strike a balance between federal protection of the nation's waters and states' autonomy over their own aquatic resources. The final rule also details what waters are not subject to federal control, including features that only contain water in direct response to rainfall; groundwater; many ditches, including most farm and roadside ditches; prior converted cropland; farm and stock watering ponds; and waste treatment systems.
Ecology estimates that approximately 29 percent of the state's wetlands and 14 percent of its streams will lose federal protection. Washington has joined a number of other states in a lawsuit against the EPA to bring back the previous definition of the rule.
In comments submitted in 2019 on the draft rule, Ecology said it was "gravely concerned" that the proposed rule would:
Put Washington's water quality at risk. Federal protection would be rolled back to cover only certain stream reaches instead of the entire water body.
Create an artificial divide between state and federal waters, allowing the federal government to shirk its responsibility to protect the physical, chemical and biological integrity of the nation's waters under the federal Clean Water Act.
Ignore years of science that Washington's surface streams and wetlands are often directly connected to underground sources of water.

 

Create a need for a new state permitting program.