The Spokane County wheat growers have awarded scholarships this year to two graduating high school seniors, Jon Denny and Kolbey Browning, both from Fairfield, Wash.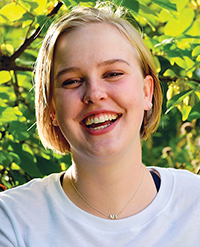 Kolbey Browning
Kolbey Browning is hoping her experience growing up on her family's farm helps her succeed in her planned career path of bridging the gap between farmers and environmentalists who are pushing for big changes in how food is grown. She is the daughter of Kynda and Dean Browning and will be attending the University of Washington this fall, working towards a degree in environmental sciences and sustainability with an emphasis on ag resources.
"I want to thank the growers for giving me money to fund my future," she said. "I appreciate them seeing me as a worthy candidate."
For her last two years at Liberty High School, Browning has been taking classes at Spokane Falls Community College. She volunteers at SpokAnimal, a Spokane animal shelter, as well as at a waffle cone booth at local parades and the Southeast Spokane County Fair. All proceeds from the booth are donated to charity. While at Liberty, Browning was involved in FFA and Future Business Leaders of America, as well as volleyball.
Browning is aware that her chosen career path could be rocky, but she is confident she has a unique perspective that could bring both sides together, and she is willing to listen to both.
"(Some farmers) think I'm not willing to listen to their point of view, but I do understand where they are coming from because I grew up on farm, and I've seen how farming is done," she explained. "There has to be a compromise. Farmers can't make huge changes right away, but they've got to be willing to not only listen but consider where (the other side) is coming from."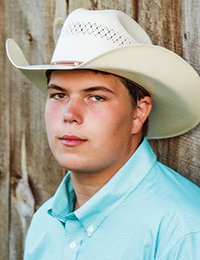 Jon Denny
Jon Denny is the son of Chad and Marie Denny. They grow wheat, barley, lentils, peas, garbanzos and hay on their farm, as well as keep about 200 head of cattle. Denny grew up helping out on the family's farm, along with his three siblings. He said driving the combine was his favorite farm task.
Denny will be attending Washington State University in the fall, where he'll be studying ag technology management and playing for the Cougars on the football field. After graduation, if his football career doesn't work out, he hopes to return to the farm to help out his father. He said he's thankful to the county wheat growers for awarding him a scholarship.
"I really respect everything they do as wheat growers," he said. "I've learned from my dad and grandpa that it takes a lot to be a successful wheat grower. This scholarship is very helpful. Because I'm a preferred walk-on on the football team, school isn't paid for, so this is important as it will help pay for tuition."
While at Liberty High School, Denny participated in FFA and Associated Student Body. He was president of both groups his senior year. Besides football, he also played basketball.