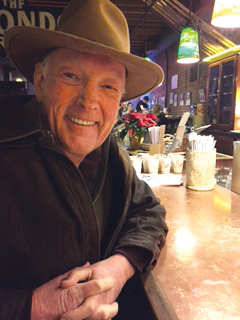 Randy Uhrich, 62, passed away on Jan. 16, 2017, at his home after a courageous battle with cancer. He leaves behind his wife, Mary, and daughter, Katie.
Randy was born in Wenatchee, Wash., to Clarence and Anne Uhrich. He was raised on the family's wheat ranch in Waterville, Wash. He worked side by side with his father learning the family business at an early age, as well as the value of hard work.
Randy's early education was in the Waterville school system. He graduated from Wenatchee High School in 1972. Afterwards, he embarked on an education journey, receiving degrees from Wenatchee Valley College and Eastern Washington University in accounting, chemistry and chemical engineering and his MBA from the University of Washington. If Randy had his choice, he would have continued this education quest, but grandmother Katie told his parents it was time for that boy to settle down.
Settling down into a career was just another adventure for Randy. While holding positions in finance and auditing, Randy traveled to some interesting places. He lived in Alaska, Colorado, New York and New Jersey. Despite the distance, Randy used most of his vacation time to return home to help his father with the wheat harvest. While living in New Jersey, he met his future wife, Mary G. Whittles. They married in April 1994 at Mt. Tabor Methodist Church and settled down in Morris Plains, N.J.
In 1998, Randy and Mary moved back to Washington to be closer to the ranch, working again with his father until Clarence's passing in 2008. Taking the reins from his dad, Randy expanded the Waterville farm as well as opening and operating Uhrich & Company CPAs in Wenatchee. He was passionate about farming, but loved chatting with his clients and getting to know them on a personal level.
Randy served as the Douglas County president of the Washington Association of Wheat Growers for several years and then served on the executive committee from 2003 to 2009, serving as president in 2007/08.
Randy had an infectious laugh and was known for his vibrant smile and his positive nature. "I am not capable…" was not in his vocabulary. He had an adventurous spirit, enjoyed traveling and loved the outdoors, He summited Mt. Rainier in his twenties. He enjoyed hiking and backpacking in the Enchantments. Randy loved reading historical biographies. He enjoyed camping, boating and cross country skiing with his family and recently got back into downhill skiing to share this with his daughter. He loved taking his Katie four wheeling and teaching her to drive truck on the ranch.
Randy would not allow his cancer diagnosis to run his life. He continued to work hard while undergoing traditional treatment, eventually seeking alternative options. This began a journey his wife named "Eat, Pray, Heal" as he explored options through diet and nontoxic treatments that led him to travel abroad. He was inspired as well as an inspiration to others. Although he hoped for a different outcome, he was given more time with his family than was thought possible.
The family would like to thank Dr. Overton and Ginny Heinitz for gentle care as he would often challenge them with questions. A heartfelt thanks goes to the awesome nursing staff on the 5th floor of the Central Washington Hospital and Randy's home health team.
Randy is survived by his wife and daughter; his mother, Anne; sisters Diane and Darlene Uhrich; relatives in Alberta, Canada; and many loving brothers, sisters, nieces and nephews on his wife's side of the family. He was preceded in death by his father, Clarence.
A funeral service was held Feb. 4, 2017. Please visit the online guestbook at jonesjonesbetts.com.