The full 2021 brochure with details of each session is available HERE. Request a copy by mail by emailing lori@wawg.org.
UPCOMING WEBINARS (individual registration links are included with each program):
Weather Risk in Wheat Production: an outlook for 2021 with Eric Snodgrass
Tuesday, February 23, 2021  9:00 am – 10:30 am PST  Register online HERE.
Eric Snodgrass is the Principal Atmospheric Scientist for Nutrien Ag Solutions, where he develops predictive, analytical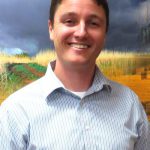 software solutions to manage weather risk for global production agriculture. He provides frequent weather updates that focus on how high-impact weather events influence global agriculture productivity. His current research uses machine learning to better understand field-level weather impacts on yields in the US and to increase confidence in long-range weather prediction. He presents his research as a featured speaker where he provides logistical guidance and solutions to weather-sensitive financial institutions, farmers, commodity traders, and other stakeholders.
2021 Wheat College
Tuesday, June 15, 2021 9:00 am – 3:00 pm  Ritzville, WA  Registration and agenda information will be mailed closer to the event date.
AMMO is excited to continue the popular Wheat College as part of our 2021 line-up! This event will offer a mix of indoor and outdoor presentations, providing interactive demonstrations to share information on the latest agronomic research being conducted in the Pacific Northwest. The featured speaker is Peter Johnson, aka Wheat Pete, who will return by popular grower demand.

Who is the Agricultural Marketing and Management Organization (AMMO)?
AMMO is a program of the Washington Association of Wheat Growers. Our goal is to help you increase your profitability by making better farm management decisions.
Producers told us the types of farm management training programs they needed. They shared what they wanted to see for program content and how they wanted to receive it.  We listened.  The AMMO group is proud to offer Farm Management Training Programs for our members and friends throughout Washington state.
Thank you to our sponsors!
AgLink, Inc.
Almota Elevator Company
Corteva Agriscience
CoBank
Columbia Bank
Farmland Company, Inc.
Helena Agri-Enterprises, LLC
HighLine Grain Growers
JW & Associates, PLLC
Northwest Farm Credit Services
Pacifi­c Northwest Farmers Cooperative
Perkins and Zlatich
Scott's Tire Service
St. John Hardware
Syngenta
The McGregor Company
Tri-Cities Grain LLC
Tri-State Seed Co.
Washington Grain Commission
Washington State Crop Improvement Assn.
Wheatland Bank
For more information: 1-877-740-AMMO (2666) or e-mail:
lori@wawg.org