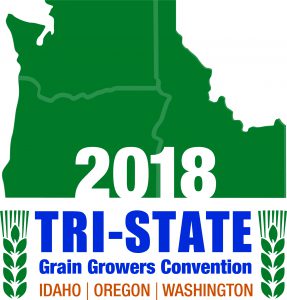 Join the Idaho Grain Producers Association, Oregon Wheat Growers League and Washington Association of Wheat Growers for our annual Tri-State Grain Growers Convention! This year the convention will be held at the Sheraton – Portland Airport Hotel in Portland, Oregon on Nov. 14-17, 2018.
Convention Keynotes
Emcee – Chad Prather
Chad Prather is known for his way with words. He is a comedian, armchair philosopher, musician, and observational humorist. He is a fast-talking combination of Lewis Grizzard and Jeff Foxworthy. Many recognize him from his fast talking, rapid fire rants from the front seat of his truck. CNN has labeled him the "Pick-up Pundit" and Fox News' Tucker Carlson has called Prather, "supernaturally articulate." He is known for his comedic family stories told from an adult perspective onstage. His current "Star Spangled Banter Comedy Tour" is selling out theaters all over America. He is one of the country's fastest rising and talked about comedians and entertainers.
Friday Keynote – Keni Thomas
As a member of Bravo Company of the 3rd Ranger Battalion Sgt Keni Thomas was deployed to Mogadishu Somalia as part of a special operations packaged called Tasked Force Ranger. Their mission was to find and capture a criminal warlord named Mohammed Farrah Aidid. Outnumbered 10 to 1, the men of TFR distinguished themselves in an 18-hour fire fight that would later be recounted in the highly successful book and movie Blackhawk Down. 19 Americans died and 78 were wounded. Keni got out of the Army to pursue his music career and now works full time as an award winning Nashville recording artist. As an entertainer, Keni has been recognized by congress, the White House, and was recently inducted into the VFW Hall of Fame for his dedicated work on behalf of veterans and military families.
Undersecretary Ted McKinney and Ambassador Gregg Doud, invited
Ted McKinney oversees trade and foreign ag issues at the USDA. He grew up on a family grain and livestock farm in Tipton, Ind., and was formerly the Indiana Ag Director. As Undersecretary, McKinney works with the U.S. trade representative and secretary of commerce to ensure that American producers are well equipped to sell their products. Gregg Doud serves as the Chief Agricultural Negotiator in the office of the U.S. Trade Representative. His past experience includes president of the Commodity Markets Council, senior staff member of the Senate Agriculture Committee and chief economist for the National Cattlemen's Beef Association.
Saturday Keynote – Dr. Randy Fortenbery
Dr. Randy Fortenbery's research program focuses on agricultural price performance in local and national markets and the impact of futures price action on the stability of cash prices. Dr. Fortenbery has held the Small Grains Endowed Chair at Washington State University since 2011.